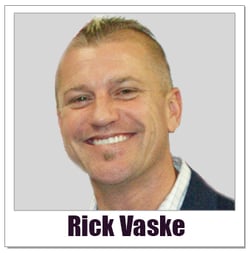 Advance Solar & Energy (formerly Advance Solar & Spa) is the largest and oldest swimming pool heating company in South Florida. The business was founded in 1983 by cousins Brian Goldberg and Jim Fields. The company is still family owned and operated today.
"At the beginning, we were in the business of selling solar and heat pump systems for pools," says the company's Director of Operations Rick Vaske. "Over the years we have expanded into hot tubs and solar-water heaters for the home. And then, a few years ago, we moved into solar electric systems. That's now the fastest growing segment of our business."
"Five years ago, we did not have much competition for solar," says Mr. Vaske. "There were only 180 solar dealers in the entire state of Florida. But, as the price of panels fell and tax incentives have improved, just about anybody can now afford to power their homes with solar. Needless to say, we soon had more than 400 competitors. It was like a gold rush."
"During that time, however," Mr. Vaske continues, "we were able to stand apart from the competition and grow our company by 50%. Advertising on Fort Myers radio helped us do that."
Fort Myers Radio Provides Excellent ROI
"First of all, radio advertising provides us with an excellent return-on-investment (ROI)," says Mr. Vaske. "We track every lead that comes in, and we know our cost per lead for radio is lower than almost everything else we do."
The ROI that Advance Solar & Energy generates from advertising on Fort Myers radio is not unusual.
Over the past few years, Nielsen has conducted more than 20 studies to determine how much ROI a business owner could expect when advertising on radio. In every case, radio's ROI was, in the words of Advertising Age, "eye-popping."
The most recent ROI study released by Nielsen is no exception. According to Westwood One, the company that commissioned this latest study, a radio campaign for a men's personal-care brand produced $11.96 in sales-lift for every $1.00 invested in radio advertising.
Overall, according to Nielsen, among all of the studies conducted, radio ads generate a very impressive 10-time return-on-investment.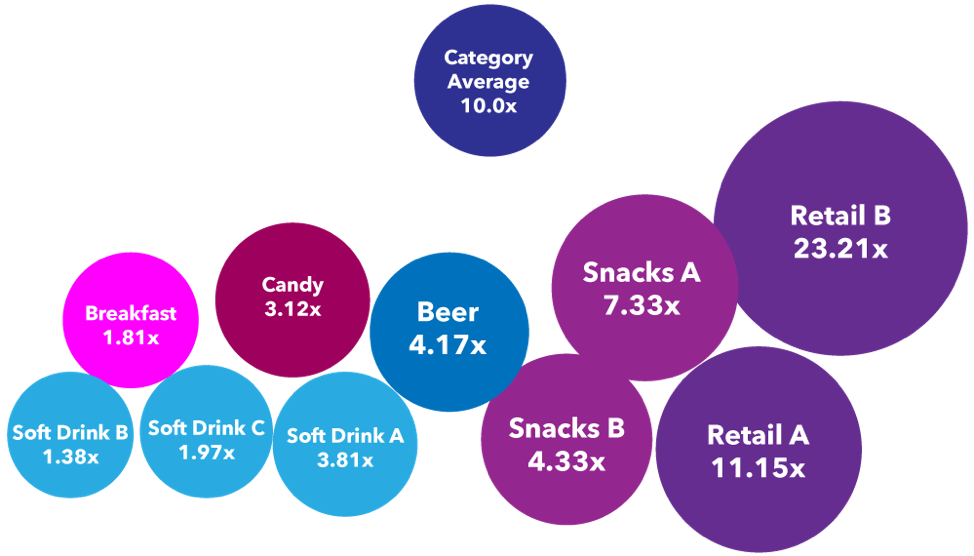 Radio Advertising ROI by brand category
"Advertising on Fort Myers radio works for us," says Mr. Vaske, "because of listener consistency. Radio is a habit in people's lives. That makes it easy for us to reach our target consumers in Southwest Florida frequently enough to be effective."
"For instance," he explains, "I drive my daughter to school every morning. We get in the car, I tune-in to the same station every day, and we listen all the way there. When I get to work, I stream that same station on my computer until it was time to pick my daughter up. Then we listen to the same station all the way home."
"People hardly ever change the presets in their cars," he concludes. "They know exactly what's on button one, two, and three and that's what they listen to." Market research supports Mr. Vaske's observations. According to Nielsen, the average Fort Myers radio listener tunes-in to only two stations per week.
Fort Myers Radio Provides Best Access To Target Audience
"We can reach our target audience no matter where they are. They can listen to their favorite radio station at home, in the car, on their phone, on their tablets, and on their computers. No other medium provides its users with that kind of access," adds Mr. Vaske.
Mr. Vaske's radio advertising philosophy has changed over the years. "It used to be that our commercials were very promotional in nature. We were always pushing sales. Presidents' Day sales, Spring Clearance sales, and Truckload sales. That was the best way to advertise."
"Nowadays, we separate ourselves from our competition in Southwest Florida by using our commercials to educate customers about solar energy," he explains. "We no longer scream at them about the big…big…sale."
"For example, one of our commercials explains to consumers that not only will the purchase of a solar system qualify for a federal tax credit, but also the portion of their roof that supports the system can qualify for the credit as well. With those incentives alone, a homeowner could save almost 50% on the cost of a system."
"Do I want everybody in Southwest Florida to know about that?" asks Mr. Vaske. "Of course I do. That is what will make somebody buy, not a big..big…sale."
In addition to education, Mr. Vaske uses his advertising on Fort Myers radio to build his brand.
"As solar energy has become a bigger part of what we do, we officially changed the company's name from Advance Solar and Spa, a throwback to the day when hot tubs were a big part of our business, to Advance Solar and Energy."
"To let people know that even though our name has changed, we still provide the same great service as always, we now invest a portion of our radio advertising budget into very short announcements during weather and traffic sponsorships. This really allows us to achieve very high reach and frequency among our target customers."
Fort Myers Radio Provides Most Affordable Reach & Frequency
"As a matter of fact, advertising on Fort Myers radio provides us with the most affordable reach and frequency of any medium available to us," says Mr. Vaske.
Mr. Vaske believes any Southwest Florida small business owner can benefit from advertising on Fort Myers radio. To be successful, he offers the following advice.
"First, if you are going to advertise on radio, be sure to buy enough frequency to make sure your message is heard. That's what it takes to stand out from your competition."
"Second," advises Mr. Vaske, "take a shot at writing your own script. You will be happier if the commercial is in your words and not an interpretation of your thoughts fed back to you."
"Finally," he adds, "once you have a finished commercial produced by a Fort Myers radio station, create a video with it by adding some pictures. Then upload it to YouTube and post it on your social media sites. That has been very effective for us."