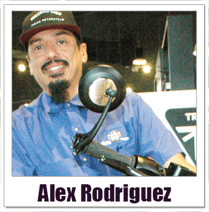 Florida ranks second in the US for motorcycle ownership, just behind California.

At the end of 2017, there were 595,496 registered motorcycles in Florida, 27% more than in 2007. This growth is expected to continue. Over the next 12 months, in the Fort Myers-Naples area alone, 38,000 people plan to purchase a brand new motorcycle.

In May of 2018, to help fulfill Southwest Florida's insatiable appetite for bikes, Stu and Barbara Rosenberg opened Stu's Motorcycles in south Fort Myers. "Sales have really taken off," says Alex Rodriguez, who helps spearhead the store's marketing efforts. "Advertising on Fort Myers radio has contributed greatly to our success."
Mr. Rodriquez understands that radio is an intrinsic part of the biker lifestyle. "When you think motorcycles you think of rock-and-roll. When you think rock-and-roll, you think radio." Market research supports this.
Radio Reaches 92% of All Motorcycle Buyers
According to Nielsen, advertising on Fort Myers radio reaches significantly more consumers who plan on purchasing a motorcycle this year than are reached by local TV, local radio, or streaming sites like Pandora and Spotify.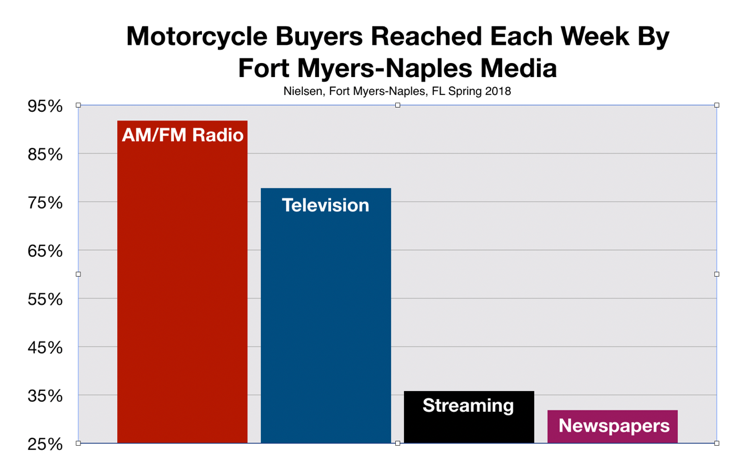 Stu's Motorcycles is a Fort Myers-Naples small business that specializes in the sale of two iconic brands, Triumph and Indian. Both brands were born at the very beginning of the 20th century. Triumph was the brand that Fonzie sported in Happy Days. Indian was the brand that set the land-speed record in 1920, an event featured in the Anthony Hopkin's movie, The Fastest Indian.

"We are the first Indian dealership ever in the Fort Myers-Naples area and the only other Triumph dealer her closed down many years ago," says Mr. Rodriguez. "So, our first challenge was to let people in Southwest Florida know that we were here."
Radio Advertising Creates Lifetime Customers
To accomplish this, the dealership offered a $5.00, no gimmick, oil changes to every bike owner in Southwest Florida regardless of the type of bike they rode. "Advertising on Fort Myers radio was the primary way we promoted the deal, "says Mr. Rodriguez. "Right away, people started calling for details. A lot of people who came in were so impressed with the dealership, I know they will be customers for life."


"Our radio advertising had the number-one, biggest effect on the success of this promotion," he adds. "It really allowed us to reach a lot of people we had not had the opportunity to shake hands with, yet."

The attribute of Fort Myers radio that Mr. Rodriguez finds most valuable, though, is the ability to get a message on the air quickly.

"For instance," he says. "just today our factory rep from Indian called and told us that 6 of their models were coming off of MAP for 30 days."
Radio Advertising Keeps Us Ahead Of The Competition
"MAP stands for "minimum advertised price," he explains. "It is the lowest price a dealership can advertise for a specific bike. So, it can be a big advantage to us when we are allowed to advertise lower prices, so we need to get our message out there before our competitors in Tampa, Daytona, and Miami do."

"I know," Mr. Rodriguez concludes, "I can find out about a dealer offer this morning. Write and produce a commercial this afternoon. And, have it on Fort Myers radio tomorrow letting people know that, for a limited, time, they can save thousands of dollars on a great motorcycle. This will drive new buyers into our showroom, for sure.

Mr. Rodriguez, who like everyone else at the dealership, is an avid biker himself. It's his voice that provides the passion for Indians and Triumphs in Stu's radio commercials. "Our ads on Fort Myers radio work because we are true to who we are. I love it when I go into a competitor's dealership and they all say, Dude, I hear you on the radio. You sound awesome."