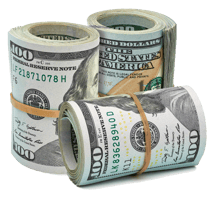 Over the next 12 month, Southwest Florida consumers will spend $22 billion on retail products.
Small business owners who want to compete for a share of this cash will need to advertise. As Professor Jef Richards at Michigan State University points out, "Advertising is totally unnecessary…unless you want to make money."
Bottom line: SWFL consumers will only buy from retailers they know about.
There are many ways small business owners to advertise. This includes local television, newspapers, or streaming media platforms like Pandora and Spotify.
But regardless of what product a retailer sells, the best option is advertising on Fort Myers radio. Radio reaches significantly more consumers in every major retail category than all of the other media choices.
Take furniture for instance. Each year, according to Nielsen, consumers in SWFL will spend more than $723,000,000 on sofas, chairs, dining tables, rugs, and other furnishing. Fort Myers radio reaches significantly more consumers who will buy furniture over the next month than can be reached by local TV stations, local newspapers, or streaming audio sites like Pandora and Spotify.
Furniture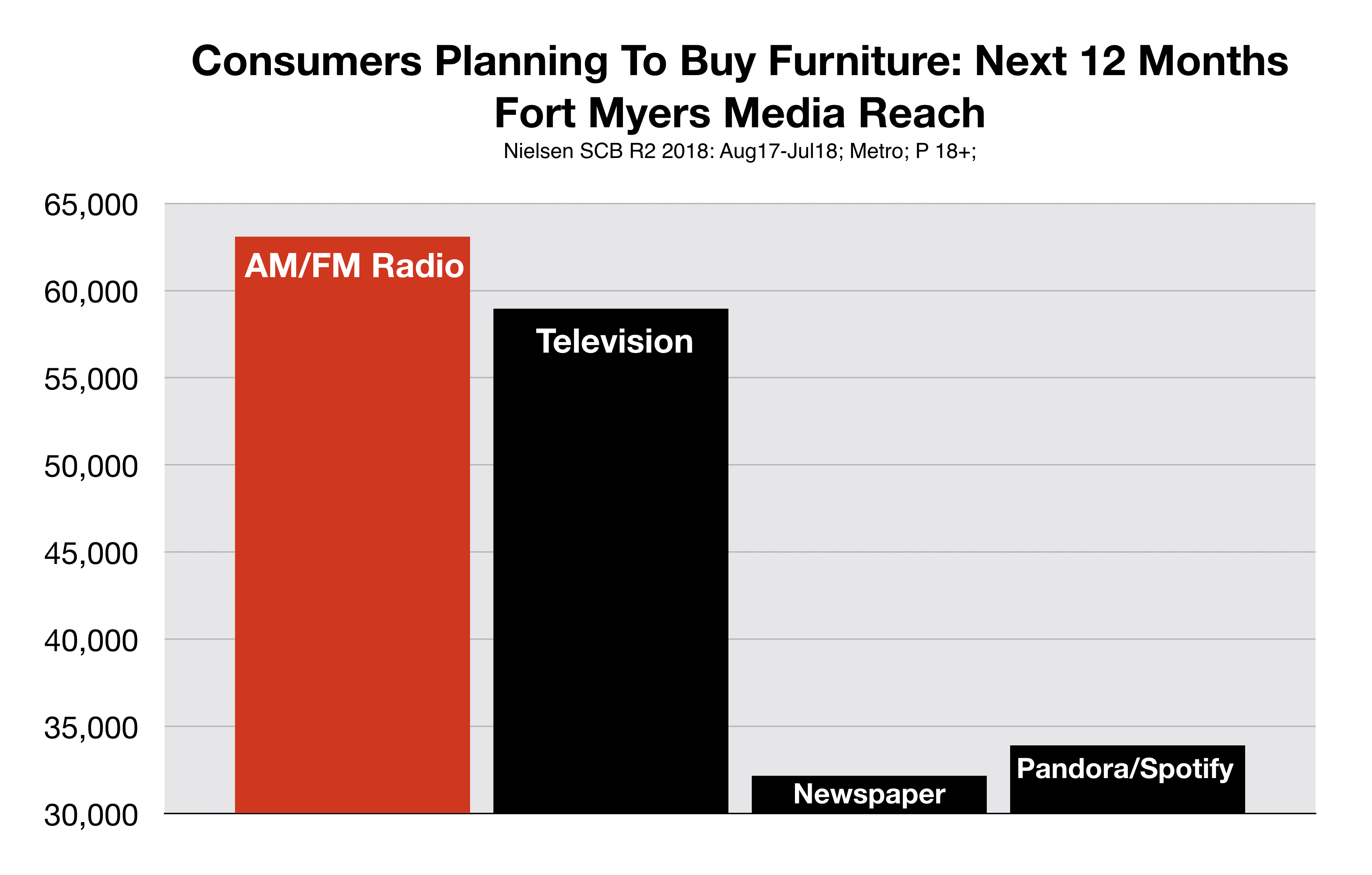 Regardless of the retail product a local small business owner sells, advertising on Fort Myers radio reaches the most potential customers.
Mattresses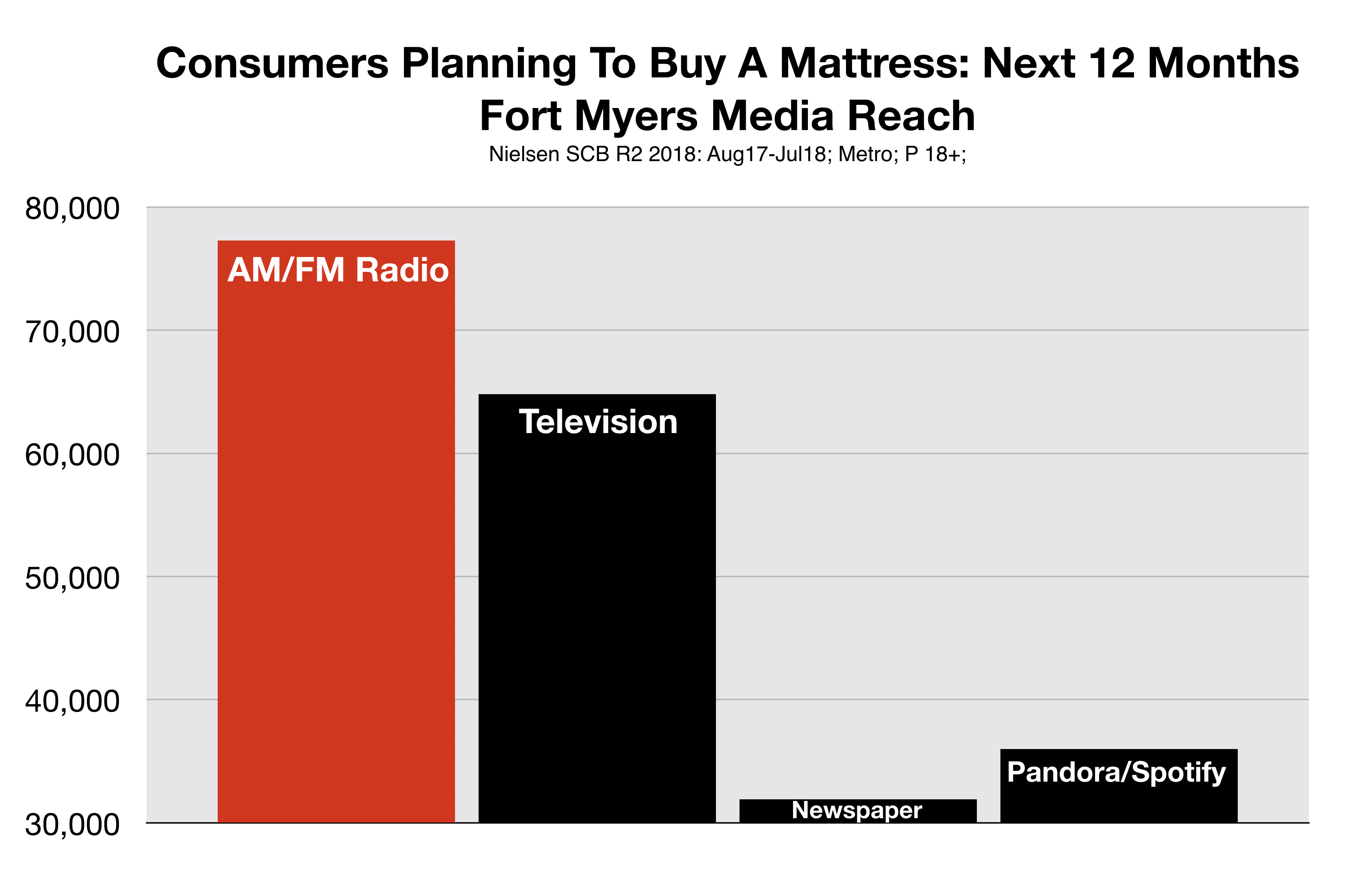 Carpeting/Floor Covering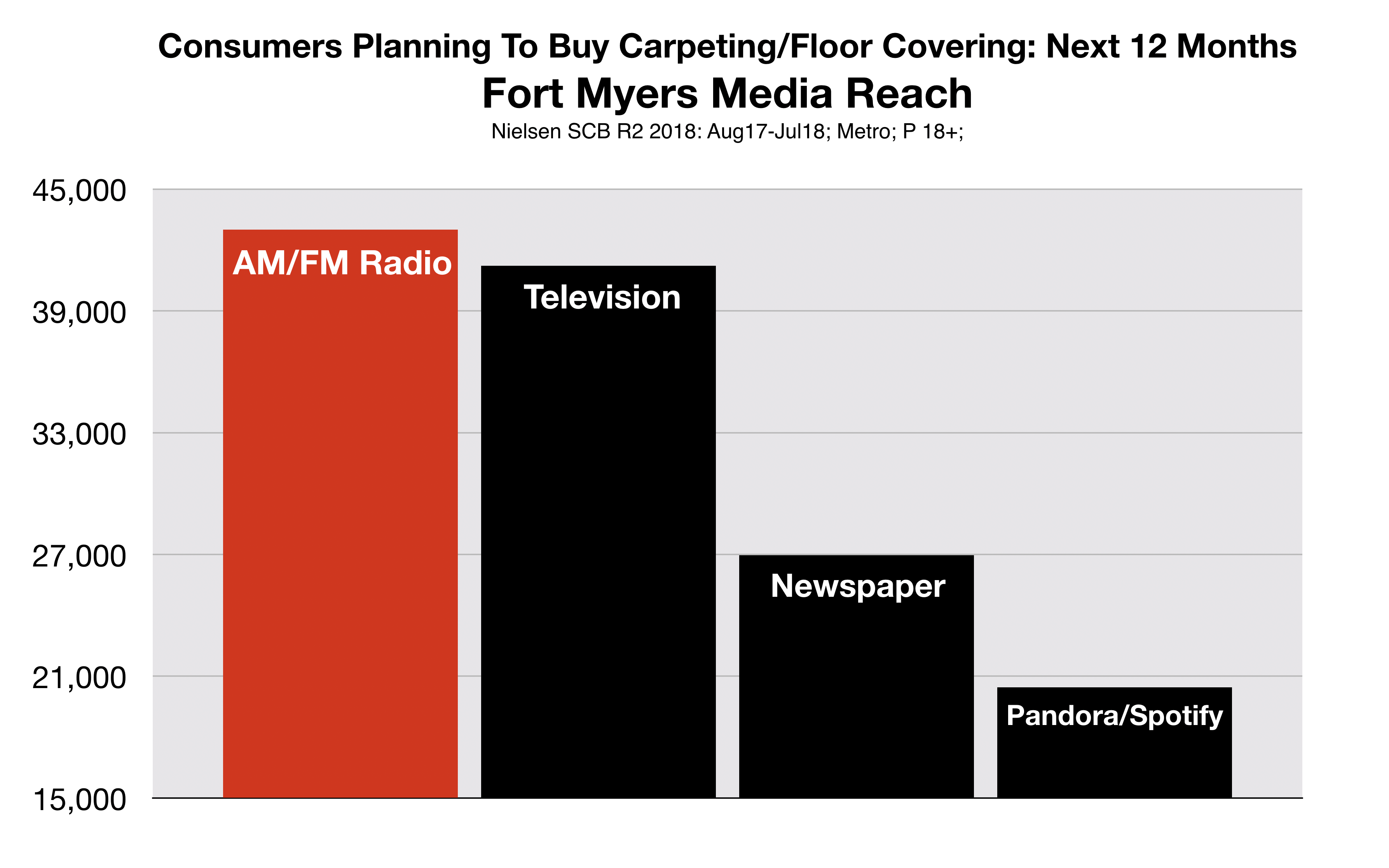 Lawn/Garden/Landscape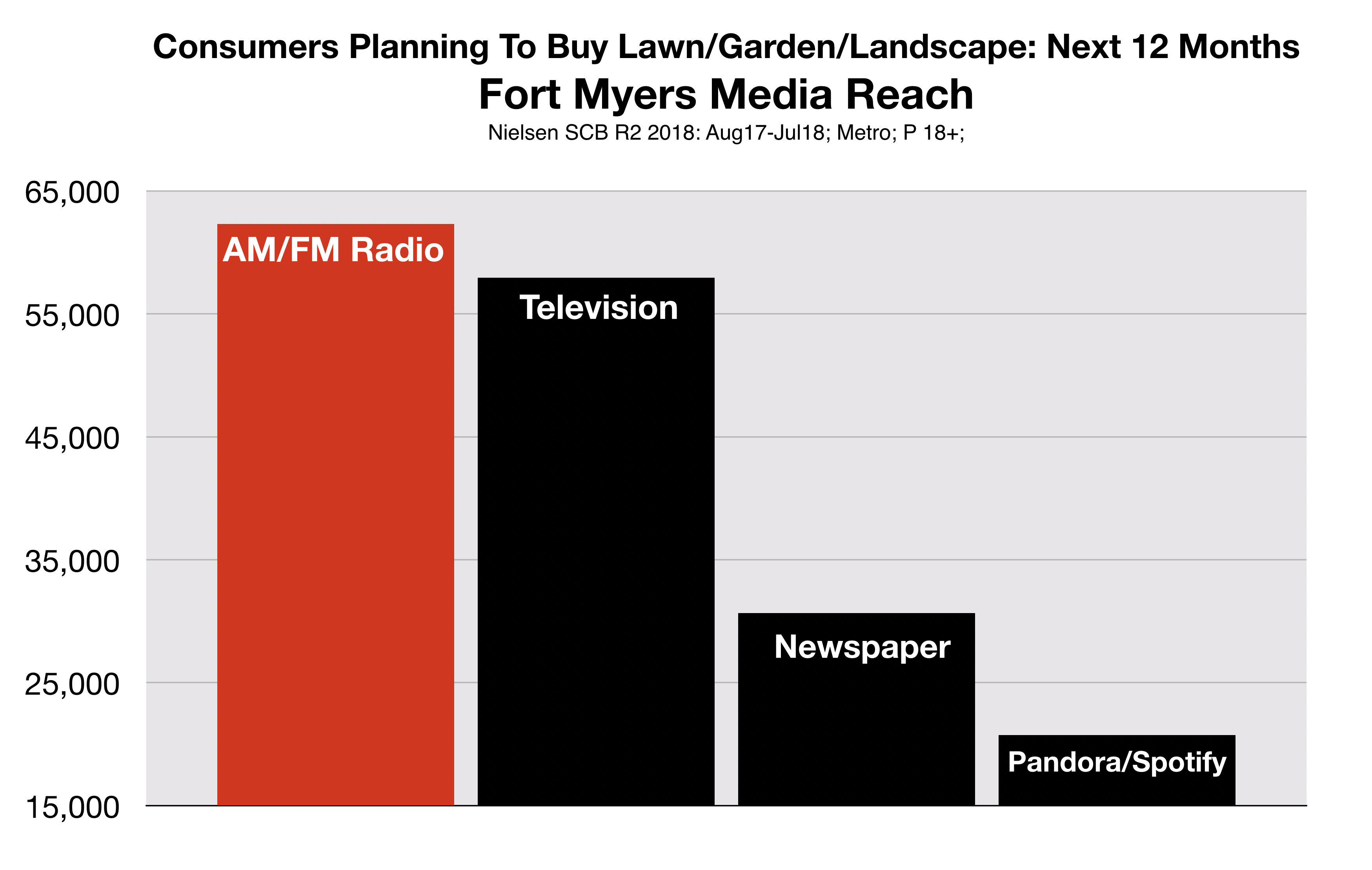 New Car or Truck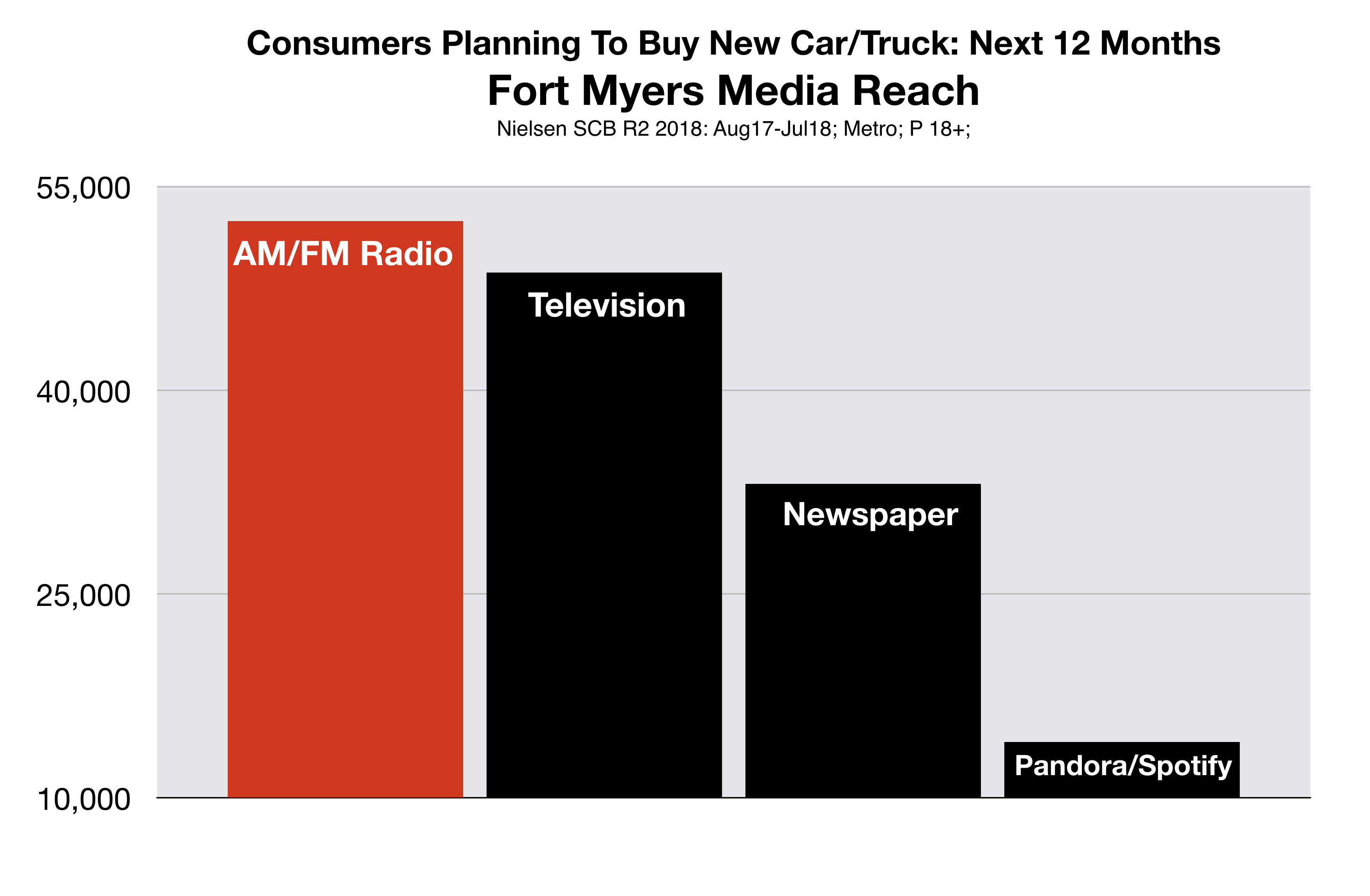 Security System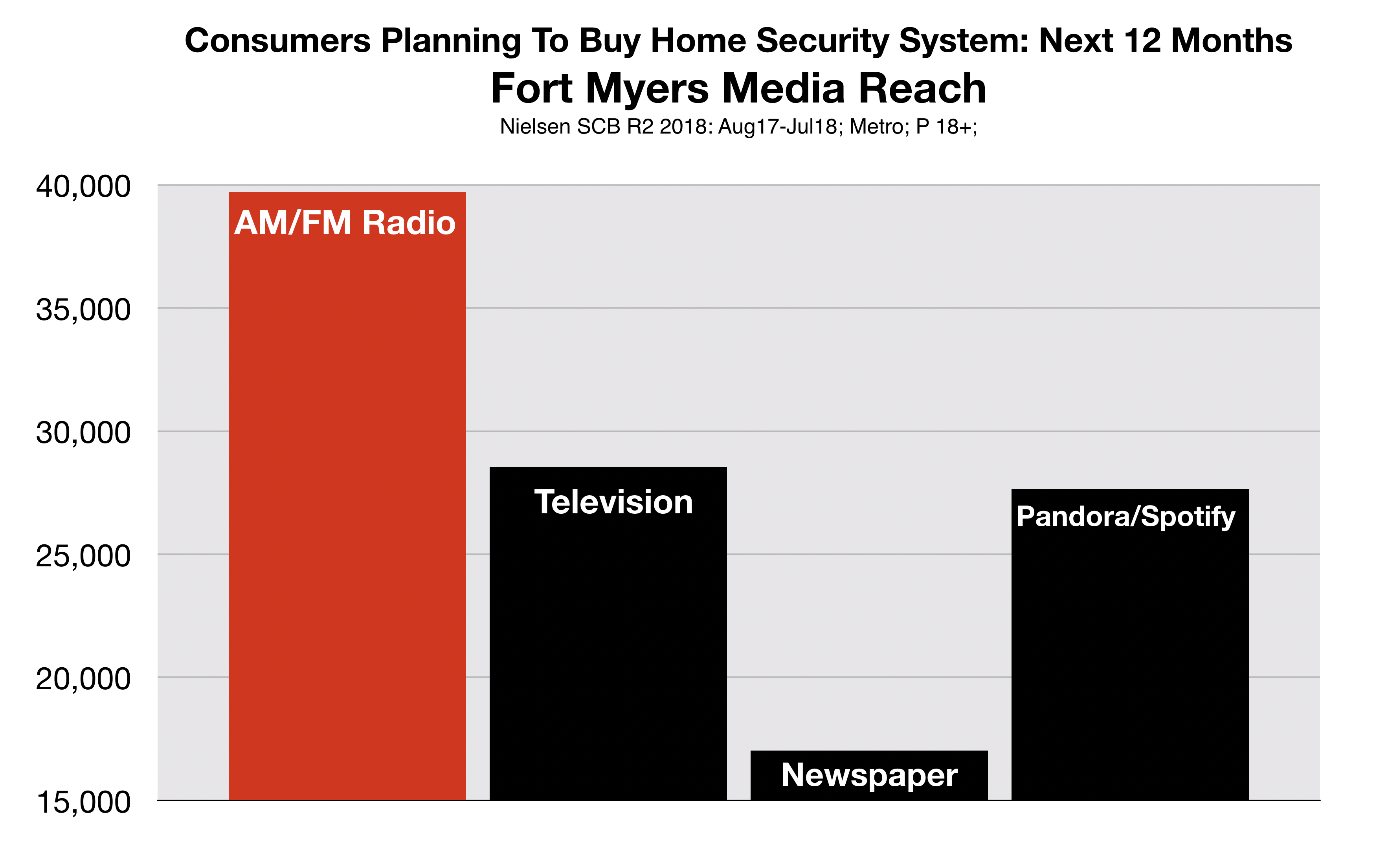 Radio Advertising Delivers Results for SWFL Small Business Owners
The value of advertising on Fort Myers radio has been credited with the success and growth of many SWFL small business owners.
Theo Etzel, President and CEO of Conditioned Air, a Naples-based HVAC company has been advertising on Fort Myers radio since he came to the company in 1995.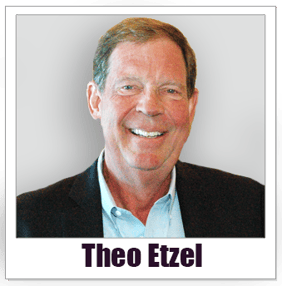 "To accelerate our growth at the beginning, we needed a strong platform to share the company's story," recalls Mr. Etzel. "So, we invested heavily in radio advertising." To this day, Fort Myers radio is still Conditioned Air's predominant form of advertising.
Does radio advertising work for a Naples small business like Conditioned Air? Mr. Etzel has seen the proof.
"When my partners and I purchased the company 24 years ago, we had 25 employees and $2.5-million in annual sales," he says. "Today we employ 375 people and generate north of $50-million a year in sales throughout Southwest Florida."
Mr. Etzel believes radio advertising can work for any Fort Myers-Naples small business. "To be successful, though," he says, "takes time and frequency."
"People naively fool themselves that they can advertise for just two weeks and have an explosion of business. It doesn't usually work that way. To avoid being disappointed requires investing in radio advertising for the long term. That's how we expanded our business."
Radio Is The Key Driver of Success For a Naples Auto Dealer
Aaron Walker is the owner of Naples Nissan. "Last year," he says, "we had the biggest sales year in the history of the store. Advertising on Fort Myers radio was a key driver of our success."
Naples Nissan had been a fixture in Southwest Florida for many years before Mr. Walker took over four years ago. "The previous owner," he explains, "had been selling, on average, 110 new and used vehicles a month. Because of the way we consistently market our dealership on the radio, we now sell 300 cars per month."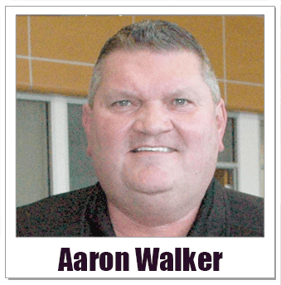 Mr. Walker knows by several metrics that his radio ads are effective. "First of all, if we are ever off the air for a few days, my sales managers notice a significant dip in customer traffic."
The second way he knows is by a reversal of his "pump-in" and "pump-out" rates. For Mr. Walker, a pumped-out buyer is somebody who registers a new Nissan in the Naples area but purchased it from a Nissan dealer outside of Naples.
A pump-in customer, on the other hand, is a customer who registers a new Nissan outside of the Naples area but purchases it from Mr. Walker. In other words, pump-ins are good. Pump-outs are bad.
Before Mr. Walker owned Naples Nissan, the dealership was pumping-out 500 more cars a year than they were pumping-in.
"Since we started advertising on Fort Myers radio," says Mr. Walker, "that has reversed. We are now pumping-in far more cars than we are pumping-out. We are seeing a lot of new customers coming in from Cape Coral, Bonita Springs, Marco Island, Lehigh Acres, and Golden Gate. These are all customer who are fed up with other dealers' misleading commercials and come to us because of our transparent pricing."
Any SWFL Small Business Can Benefit From Radio Advertising
Mr. Walker believes that with the right message and with patience, most Southwest Florida small business owners could benefit from advertising on Fort Myers radio. "First, make sure you have a precise message. You have to respect the listeners' time. Only share useful and relevant information that they can use."
"Second, Be sure you are prepared to handle the website traffic your commercial will create. It will be off the charts. I know that my radio advertising is responsible for most of the 4000+ live-chat sessions that happen each month on the Naples Nissan site."
"Finally," says Mr. Walker, "it could take six months before an ad campaign can produce significant results. I know this firsthand. As a matter of fact, I am anxious to start a new campaign for an online, easy purchase option we are offering. I am hesitant to take the leap, though, because I know it will take six months of consistent advertising. That's tough to do when my current campaign is producing record-breaking results."