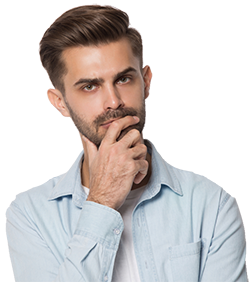 Advertising is critical to the growth and ultimate success of a Southwest Florida small business. The U.S. Small Business Administration recommends that mature businesses should budget 7-8% of its annual income for advertising the company's goods and services.
Businesses that are in an early growth phase, however, should plan on investing 10-12%. Start-up companies that may not yet be familiar to their target consumers should consider investing even a larger percentage.
Deloitte, the world's largest business consulting firm, recommends that "radio advertising should be a big part of the mix for those buying advertising."
"Radio's weekly reach, the percentage of people who listen to radio at least once per week, has been remarkably stable in the United States," says Deloitte. "Not only has reach hovered around 94% for the last few years, but that number is essentially unchanged from the 94.9% percent figure in spring 2001 when Apple introduced the iPod."
Last week, for instance, close to 820,397 adult consumers tuned-in to a Fort Myers radio station. This is significantly higher reach than local TV, newspaper, streaming audio, and social media.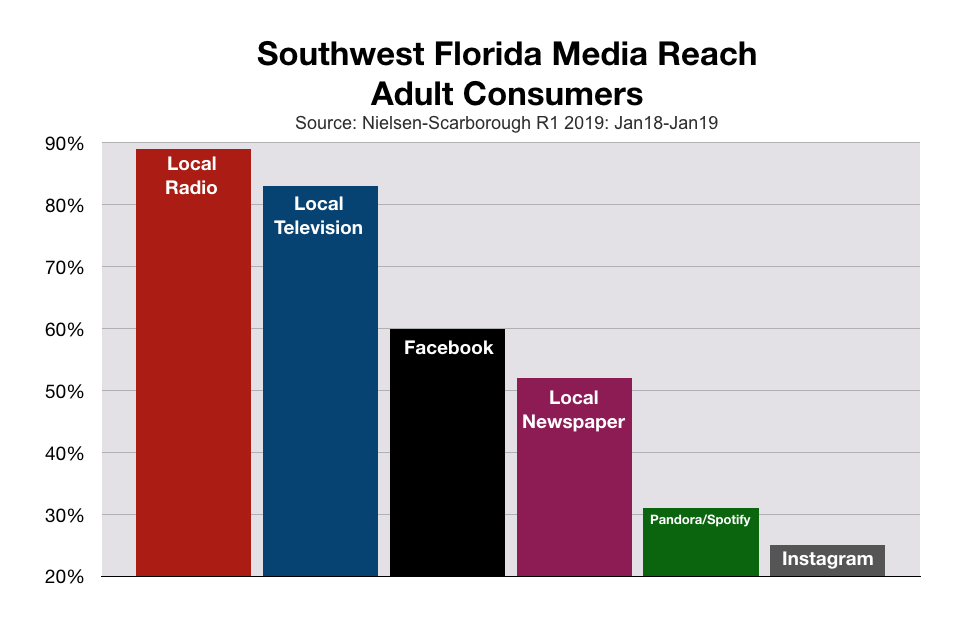 But, does advertising on Fort Myers radio make the cash registers of small business owners ring?
"We have been very pleased with the results of our radio advertising," says Kimberly Bell, who handles the marketing for Fix Marine Supply in Cape Coral. "It has been a very good investment for us."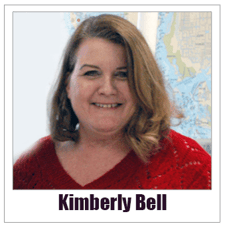 Eight years ago, John Fix started Fix Marine Supply at his dining room table in Cape Coral to try and grab a share of the $150,000,000 that is spent on boating-related purchases in the county each year. The
company specializes in boat lifts and supplies for both residential consumers and contractors.
"The business started growing right away, primarily by word of mouth," says Ms. Bell. "Five years ago, we moved to our first store on 47th street in Cape Coral. That's when we began to do more advertising."
At first, Fix Marine Supply used hyper-local advertising to reach people in the Cape Coral area. "We bought ads in a local boating magazine, on bus benches, and on placemats in local restaurants. We even had a billboard by the Cape Coral bridge."
Four years ago, the company began advertising on Fort Myers radio.
"After about a month," says Ms. Bell, "we began to see an increase in our store traffic. At first, it was primarily from the Cape Coral area. But then we started seeing customers coming from as far away as Port Charlotte and Punta Gorda. Advertising on Fort Myers radio really helped expand our sales area."
Business at Fix Marine Supply expanded so successfully that the company moved into a much larger showroom on Cape Coral Parkway.
Advertising on Fort Myers radio continues to drive in new customers. "When people come in, we always ask how they learned about us. A lot of customers will say they heard us on the radio. That's how we know advertising on Fort Myers radio really works."
Advertising On Fort Myers Radio Serves Up Success For Local Eatery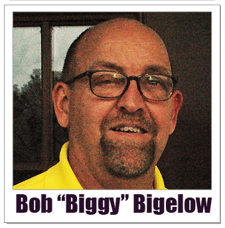 Biggy's Place is a 164-seat restaurant serving breakfast and lunch in Fort Myers. Since new owners took over the location just over five years ago, sales have increased an astonishing 65%.
"We've grown every year since we started," says Bob Bigelow (aka Biggy), who now owns the restaurant along with his wife, Dawn. "Advertising on Fort Myers radio has been a large, large part of our growth."
Mr. Bigelow has a strong pedigree for producing results in the hospitality business. Before Biggy's Place, he successfully owned and operated 18 Domino Pizza franchises throughout Southwest Florida as well as two Coldstone Creamery locations. "It was this experience," he says, "that taught me the value of radio advertising. So, it seemed only natural to me to include a budget line for advertising on Fort Myers radio when we opened Biggy's."

Mr. Bigelow says, "Every small business in Fort Myers and Naples can make radio advertising work just like us. I recommend setting aside 6% of every sale to use for marketing. But the real key is to stick with it. You must promote…promote…promote. If a business does not begin to see results after about three months, then the problem isn't radio, it is a problem with the message. I learned that with Dominos, and I learned that at Biggy's Place."
"We went through several commercials before we hit on the right message," says Mr. Bigelow. "It took us 3 or 4 tries before we really got the results we wanted. Now, customers will brag to me how far they drive and how many other restaurants they passed to eat here. It's all because they heard our advertising on Fort Myers radio."
Advertising on Fort Myers Radio Drives Success For Motorcycle Dealer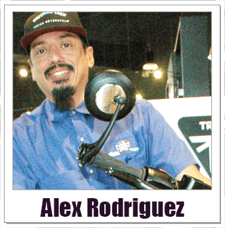 In May of 2018, to help fulfill Southwest Florida's insatiable appetite for bikes, Stu and Barbara Rosenberg opened Stu's Motorcycles in south Fort Myers. "Sales have really taken off," says Alex Rodriguez, who helps spearhead the store's marketing efforts. "Advertising on Fort Myers radio has contributed greatly to our success."
Stu's Motorcycles is a Fort Myers-Naples small business that specializes in the sale of two iconic brands, Triumph and Indian. Both brands were born at the very beginning of the 20th century. Triumph was the brand that Fonzie sported in Happy Days. Indian was the brand that set the land-speed record in 1920, an event featured in the Anthony Hopkins movie, The Fastest Indian.

"We are the first Indian dealership ever in the Fort Myers-Naples area and the only other Triumph dealer her closed down many years ago," says Mr. Rodriguez. "So, our first challenge was to let people in Southwest Florida know that we were here."
To accomplish this, the dealership offered a $5.00, no gimmick, oil changes to every bike owner in Southwest Florida regardless of the type of bike they rode. "Advertising on Fort Myers radio was the primary way we promoted the deal, "says Mr. Rodriguez. "Right away, people started calling for details. A lot of people who came in were so impressed with the dealership, I know they will be customers for life."
"Our radio advertising had the number-one, biggest effect on the success of this promotion," he adds. "It really allowed us to reach a lot of people we had not had the opportunity to shake hands with, yet."
Radio Advertising Helps Our Businesses
Marketing expert Doug Schoen wrote an article for Forbes after he learned of local radio's resiliency in the digital age.
"You wouldn't know it from all the media coverage focused on streaming video and streaming music," wrote Mr. Doug Schoen, "but recent Nielsen data shows radio actually has the most reach among American media consumers."
He goes on to say, "It's quite clear that we should all be paying more attention to radio, its reach and potential to help our businesses. It's doing the job with expert efficiency."
More Advice For SWFL Small Business Owners