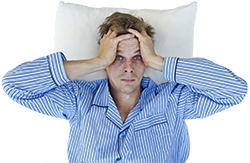 Business owners who sell mattresses in Southwest Florida might be losing sleep.
Last year, local consumers spent close to $40 million for new mattresses. A recent survey conducted by Piper Jaffray indicates that many retailers believe that the category will become even stronger during the last four months of this year.
The reason for the owners' sleep loss is that many customers are skipping local stores and buying their mattresses on the internet. According to Statista, 37% of mattress buyers are now purchasing from one-of-175 direct-to-consumer sites like Casper or from online retailers like Amazon.
To keep customers shopping local requires advertising.
"Think you have a great product?" asks the US Small Business Administration. "Unfortunately, no one's going to know about it unless you advertise."
"Advertising, if done correctly, can do wonders for your product sales, and you know what that means: more revenue and more success for your business."
Based on any metric, the best way a local mattress business to advertise is on Fort Myers radio.
Last week, for instance, 89.5% of households planning to buy a mattress during the next 12 months tuned-in to a Fort Myers radio station. This is significantly more than watched local TV; read local newspapers; logged-on to social media sites like Facebook; or streamed audio from Pandora and Spotify.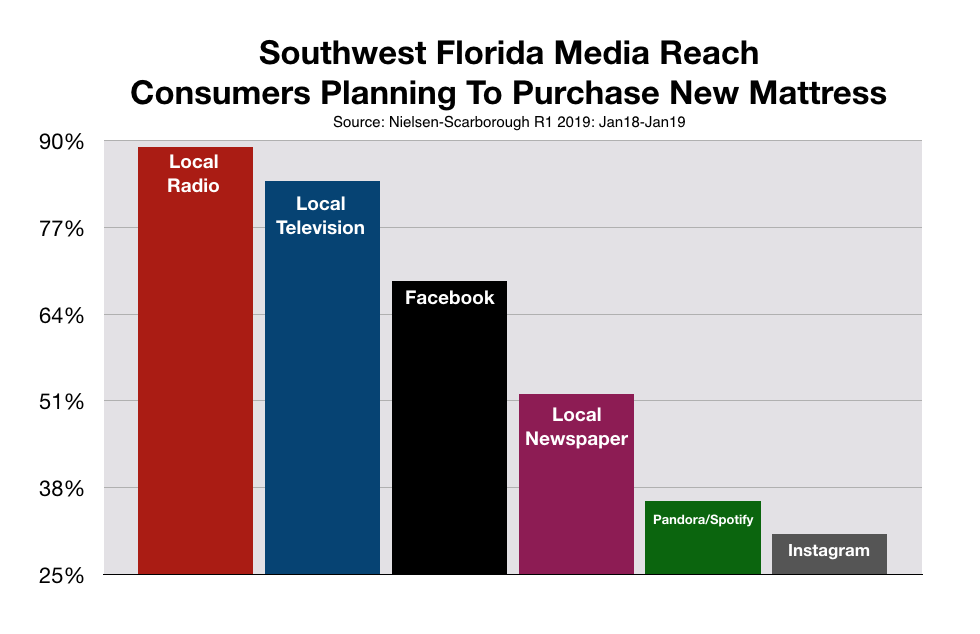 According to a study by Edison Research, 41% of consumers have visited a store after hearing a commercial on local radio. Good news for local mattress retailers looking to drive customers into their showrooms.
Many SWFL businesses credit radio with driving traffic.
"We have been very pleased with the results of our radio advertising," says Kimberly Bell, who handles the marketing for Fix Marine Supply in Cape Coral. "It has been a very good investment for us."
Eight years ago, John Fix started Fix Marine Supply at his dining room table in Cape Coral to try and grab a share of the $150,000,000 that is spent on boating related purchases in the county each year. The company specializes in boat lifts and supplies for both residential consumers and contractors.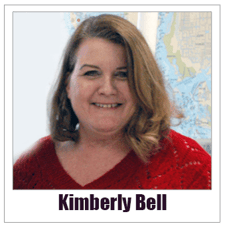 "The business started growing right away, primarily by word of mouth," says Ms. Bell. "Five years ago we moved to our first store on 47th street in Cape Coral. That's when we began to do more advertising."
At first, Fix Marine Supply used hyper-local advertising to reach people in the Cape Coral area. "We bought ads in a local boating magazine, on bus benches, and on placemats in local restaurants. We even had a billboard by the Cape Coral bridge."
Four years ago, the company began advertising on Fort Myers radio.
"After about a month," says Ms. Bell, "we began to see an increase in our store traffic. At first, it was primarily from the Cape Coral area. But then we started seeing customers coming from as far away as Port Charlotte and Punta Gorda. Advertising on Fort Myers radio really helped expand our sales area."
Business at Fix Marine Supply expanded so successfully that the company moved into a much larger showroom on Cape Coral Parkway.
Advertising on Fort Myers radio continues to drive in new customers. "When people come in, we always ask how they learned about us. A lot of customers will say they heard us on the radio. That's how we know advertising on Fort Myers radio really works."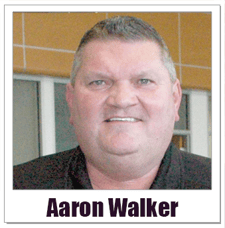 Aaron Walker is the owner of Naples Nissan. "Last year," he says, "we had the biggest sales year in the history of the store. Advertising on Fort Myers radio was a key driver of our success."
Naples Nissan had been a fixture in Southwest Florida for many years before Mr. Walker took over four years ago. "The previous owner," he explains, "had been selling, on average, 110 new and used vehicles a month. Because of the way we consistently market our dealership on the radio, we now sell 300 cars per month."
"I chose radio," he says, "because of the traffic patterns in Southwest Florida. We have more people than our roads and highways can accommodate. So people are spending a lot of time in their cars during mornings and afternoons."
"I-75 is continually congested. Route 41 is congested. The main roads and side streets are congested. As a result, people depend on Fort Myers radio for traffic reports to get them from point-A to point B. That's good for my business because people are captive in their cars, and I can communicate with them."
Mr. Walker knows by several metrics that his radio ads are effective. "First of all, if we are ever off the air for a few days, my sales managers notice a significant dip in customer traffic."
The second way he knows is by a reversal of his "pump-in" and "pump-out" rates. For Mr. Walker, a pumped-out buyer is somebody who registers a new Nissan in the Naples area but purchased it from a Nissan dealer outside of Naples.
A pump-in customer, on the other hand, is a customer who registers a new Nissan outside of the Naples area but purchases it from Mr. Walker. In other words, pump-ins are good. Pump-outs are bad.
Before Mr. Walker owned Naples Nissan, the dealership was pumping-out 500 more cars a year than they were pumping-in.
"Since we started advertising on Fort Myers radio," says Mr. Walker, "that has reversed. We are now pumping-in far more cars than we are pumping-out. We are seeing a lot of new customers coming in from Cape Coral, Bonita Springs, Marco Island, Lehigh Acres, and Golden Gate."
More Great Advice For SWFL Small Business Owners